Quilt of Valor
On Friday 11 November 2016, Veterans' Day, a Quilt of Valor was awarded to Mr. Joseph Federico a veteran and a POW of WWII. The central panel was embroidered by Mrs. Marianne Mickalowski of the Tapestry Guild of Warren County with the patchwork and machine quilting having been done by her son, Mr. Richard Danner, a member of the Evening Star Quilters Guild of Warren County, NJ. The quilt was awarded in the late afternoon in front of the War Memorial in Belvidere, NJ. In attendance from the Evening Star Quilters Guild were Mrs. Bonnie Eamigh, Mrs. Sharon Kubich, and Mrs. Judy Zeitler. Mr. Federico was accompanied by his wife and a family friend.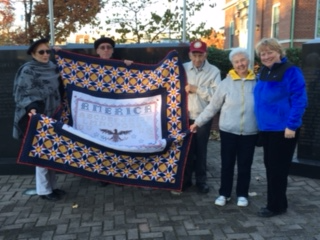 In addition to a patriotic themed central panel, the quilt borders were constructed of long point Ohio Stars surrounding Square in a Square centers trimmed with Shaded 4 Patch Corners all done in red, white, and blue on a gold blaze. The machine quilting featured a primitive star shower on the central panel and stipple quilting with ditch quilting for the patchwork and rope quilting for the easement frames. 100% cotton was used for all the fabrics, batting, and thread. The embroidery of the central panel was completed in 5 years with the patchwork and quilting taking 2.5 months to completion.
Upcoming Guild Meetings
Next Guild meeting: January 10, 2017
NOTE: Guild meetings begin at 7:00 pm ~ Doors open at 6:00 pm on 1/10/17 to discuss Kutztown Quilt Entry; you can also bring handwork to do from around 6:30 pm 'til start of meeting.
As members of ESQG we wish to express our appreciation to Belvidere High School for allowing us the use of their facility for our guild meetings.
Upcoming Guild Meeting Programs
March, 2017 - Gyleen Fitzgerald
April, 2017 - Pat Sloan
Guild Program Schedule
Upcoming Board Meetings
Board Meetings will be held in the Belvidere High School Library at 6:30 pm. All members are welcome.
February 28, 2017
May 23, 2017